Friends and Influences
The first couple of years of printing I was self-taught. Eventually I joined the Nature Printing Society where I began to practice with other accomplished printers. Below is a list of other printers who are friends and/or influences. Their work is worth a look. 
Heather Fortner has closed her studio and relocated to Mexico. As a former captain in the Merchant Marine, she began printing in 1968 and, word has it, she is working on a book about printing. Below is a beautiful print of a rainbow trout with hydrilla. NPR also did a nice interview of her. 
Michael Reimer is also a student of Heather's. He's in PA and has the tightest, and most refined and disciplined prints of any printer I know. Below is a recent Walleye print of his that I admire. 
Dwight Hwang is a trained artist who was an accomplished storyboard illustrator and made an award-winning short film. Gyotaku was merely a hobby for him. In the past few years he has become the most widely recognized fish printer in probably the world. His work is strictly in the traditional methods of sumi and rice paper. His work is exquisite and inspiring, and he is constantly pushing the artform to new levels by deconstructing and reconstructing fish to portray a myriad of perspectives. Below is a photo of a Gar that might make you scratch your head thinking about how he got this pose. 




Duncan Berry is an entrepreneur, creative mind, and nature printer. He has a heart for the environment and a vision to open people's minds and change their actions in terms of environmental stewardship. Time spent with him is invigorating and inspiring. Besides original art, he also has an awesome T-shirt line. Below is an octopus gyotaku air-floated over embossed kelp. 

Andrew Jensen is a friend and fellow printer. He's a fisheries biologist in Redding, CA, and is the guru of synthesizing art and science. He's also been a tried and true source for many of the fish we've printed over the years. Below is a beautiful print of a California golden trout.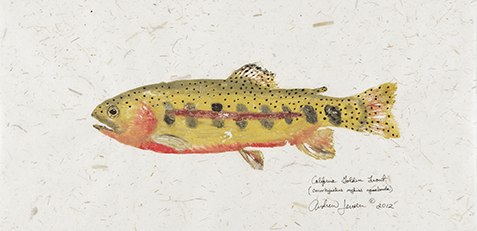 Ryan Casper
is a renaissance man and nature printing is only one of his gifts. He might be best know for his custom framing done with recycled barn wood and finished with copper ship nails. 
Nate Garrett, aka "Big Fish Gyotaku," is a good friend in Portland Maine. He's one of the most technically curious printers I know and is always trying new materials and techniques and improving the artform. He's also deeply generous with what he learns and the nature printing community is consistently blessed by what he shares. He's a great follow on Instagram.